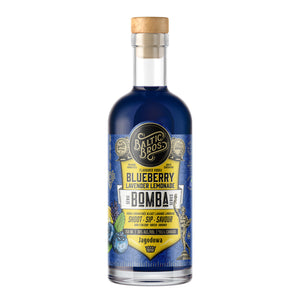 BALTIC BROS Blueberry Lavender Lemonade BOMBA Vodka 750mL
30% ALC/VOL
SHOOT - SIP - SAVOUR
A mouth-watering wave of smooth blueberry blends seamlessly with tart lemonade and a touch of aromatic lavender, resulting in a mix of sweet and tart notes. Only as sweet as the original blueberries found in nature, making it a perfect addition to any cocktail.
THE FLAVOUR
Blueberries are mashed, concentrated & macerates in 100% Canadian Wheat vodka. Meanwhile a traditional Cytrynowka (limoncello) is created to provide a tart balance to the subtle sweetness of the blueberries.  A lavender tincture brings balance to the two contrasting elements with a nice floral finish.  All tinctures and infusions are constructed using old Polish traditions and modern culinary techniques. Ultimately reassembled, respecting nature's flavour balance, to create this fabled BOMBA.
THE EXPERIENCE
BASE: Capital K Wheat Vodka
VISUAL: Deep Blue
AROMA: Warm fruity aroma.  , 
TASTE: A perfect balance of smooth & sweet blueberries, tart lemons and slightly flora lavender. Reminiscent of freshly picked juicy wild blueberries with a bright citrus finish.
MOUTHFEEL: Juice like, thin and luscious texture. Minimal prickle and slightly tart throughout.