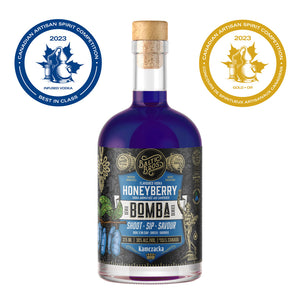 BALTIC BROS Honeyberry BOMBA Vodka 375mL
30% ALC/VOL.
THE FLAVOUR
A light spirit with deep fruit flavour and colour. Rushes of raspberries, hints of blueberry and a citrus finish are the cornerstone flavours of this Manitoba Honeyberry vodka.  Its crimson purple colour & sweet succulent taste is the perfect recreation of the magical fruit of Eastern European forests in a bottle. 
THE PROCESS
Honeyberries (Haskaps) are mashed & concentrated while the plump flesh macerates for many weeks in 100% Canadian Wheat vodka. Supporting tinctures are created and the juice is further deconstructed using old Polish traditions and modern culinary techniques. Ultimately reassembled, respecting nature's flavour balance, to create this fabled BOMBA.
THE EXPERIENCE
BASE: 100% Canadian Wheat Vodka
VISUAL: Crimson Purple
AROMA: Fruity, mixed berry jam.
TASTE: Rich berry flavours on the tongue, bursts of raspberries & blueberries and finished with the same sweetness as nature's own haskap.
MOUTHFEEL: Juice like, thin and luscious texture. Minimal prickle and slightly astringent throughout.