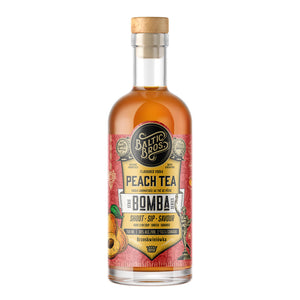 BALTIC BROS Peach Tea BOMBA Vodka 750mL
PRE-ORDER NOW - HOME DELIVERY STARTS APRIL 27th
30% ALC/VOL
SHOOT - SIP - SAVOUR
Juicy peach nectar complements tastes of strongly brewed tea. Touches of citrus accentuate the fresh from the orchard flavours.  So refreshing, so peachy, so perfect.
THE FLAVOUR
Canadian peaches are picked, pitted and peeled.  The peaches are then prepared &  infused using old Polish traditions and modern culinary techniques.  Meanwhile, supporting tea tinctures are created.  Tea tinctures come together with the rich depth of of the peach infusion to create a modern but classic Polish Nalewka (infusion).  This traditional BOMBA respects nature's balance of sweet to sour, making it perfect to be enjoyed on its own or in a cocktail.
THE EXPERIENCE
BASE: Capital K Wheat Vodka
VISUAL: Warm Yellow
AROMA: Fruity with hints of citrus.
TASTE: Tart on the tongue, bursts of fresh cherry and finished with the same sweetness as nature's own sour cherry.
MOUTHFEEL: Juice like, thin and luscious texture. Minimal prickle and slightly astringent throughout.