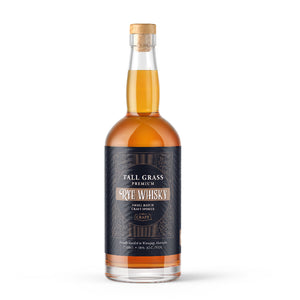 TALL GRASS 100% Rye Whisky 750mL
40% ALC/VOL
RYE whisky is engrained into our Canadian identity.  Tall Grass Rye Whisky is the 1st 100% Straight Rye Whisky ever produced in Manitoba.  It is extremely rare to find a single grain whisky on Canadian store shelves because of how difficult it is to master the fermentation, distillation and aging of a 100% Straight Rye Whisky.
THE GRAIN
The Manitoba Rye that is grown in Dominion. MB is unique and it has a signature sweetness compared to Rye grains in other parts of Canada.  Our huge swings in seasonal temperatures give the grain its hardiness and sweetness that you can taste in the Tall Grass 100% Rye Whisky.

THE PROCESS
Rye is one of the toughest grains to ferment due to the high protein content in the grain.  You need to become an expert to pair the correct enzyme & yeast blend to get the most out of your RYE.  If you get it wrong then the mash becomes a paste or a continuous mountain of foam.
We have painstakingly taken the last 6 years to study, appreciate and master RYE.  With each distillation of original White Rye we would perfect the mash & fermentation.  Then as we introduced our Oaked Rye series, our customers came along for the ride as we studied various methods cask aging of the spirit.
THE AGING
We aged our 100% RYE Whisky for 3 years in barrels that had been previously used to finish bourbon, meads & ciders.  Bourbon barrels impart the traditional notes of corn while still keeping its straight RYE whisky integrity.  Having been used in mead & cider finishing we also get additional notes of fruit and brightness.
BETTER TO BE A MASTER of ONE GRAIN rather than a Jack of all grains.
Tall Grass Rye Whisky is the first ever whisky offering from Capital K Distillery. Distilled from 100% Manitoba-grown rye, this incredible spirit is everything that we hoped it would be and more.
PALATE
dry, smooth, light, oak, allspice, pear finish
APPEARANCE
clear, pale gold
NOSE
clean, light, apple, honey, cinnamon, smoke