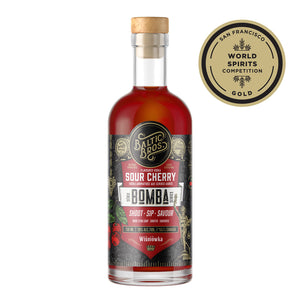 BALTIC BROS Sour Cherry BOMBA Vodka 750mL
30% ALC/VOL
SHOOT - SIP - SAVOUR
The most famous fruit flavoured infusion from Poland. European techniques meet the terroir of Manitoba cherry orchards.
THE FLAVOUR
Local Sour Cherries are mashed & concentrated while the plump flesh macerates for many weeks in 100% Canadian Wheat vodka. Supporting tinctures are created and the juice is further deconstructed using old Polish traditions and modern culinary techniques. Ultimately reassembled, respecting nature's flavour balance, to create this fabled BOMBA.
THE EXPERIENCE
BASE: Capital K Wheat Vodka
VISUAL: Ruby Red
AROMA: Fruity, hints of citrus, earthy undertones with a lingering cinnamon finish.
TASTE: Tart on the tongue, bursts of fresh cherry and finished with the same sweetness as nature's own sour cherry.
MOUTHFEEL: Juice like, thin and luscious texture. Minimal prickle and slightly astringent throughout.