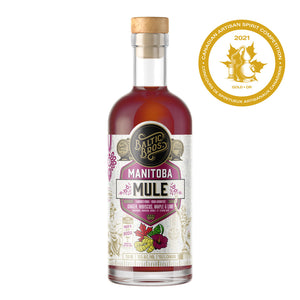 BALTIC BROS Manitoba Mule Vodka 750mL
Regular price
$25.19
Sale price
$35.99
35% ALC/VOL
THE FLAVOUR
Spicy ginger, a satisfying touch of maple, wild Manitoba blueberries, hibiscus & lime evoke a warm spicy-sweet flavour combination.
THE PROCESS
Multiple types of ginger warm the soul; dried hibiscus adds colour, while lime brings life.  Carefully balanced out with wild Manitoba blueberries & Canadian maple to provide the right amount of sweetness.  Both the beautiful hue and flavour comes entirely from the natural whole spices and botanicals that are infused into 100% Canadian Wheat Vodka.
THE EXPERIENCE
BASE: Wheat Vodka
VISUAL: Juicy, bold magenta
AROMA: Sweet fruity, peppery, praline with floral & citrus notes.
TASTE: Tart field berries to the tongue, mellowing sponge toffeelike sweetness through the middle, finished with a balance of bright spice & crisp lime.
MOUTHFEEL: Smooth rich velvet &
long lasting warmth.